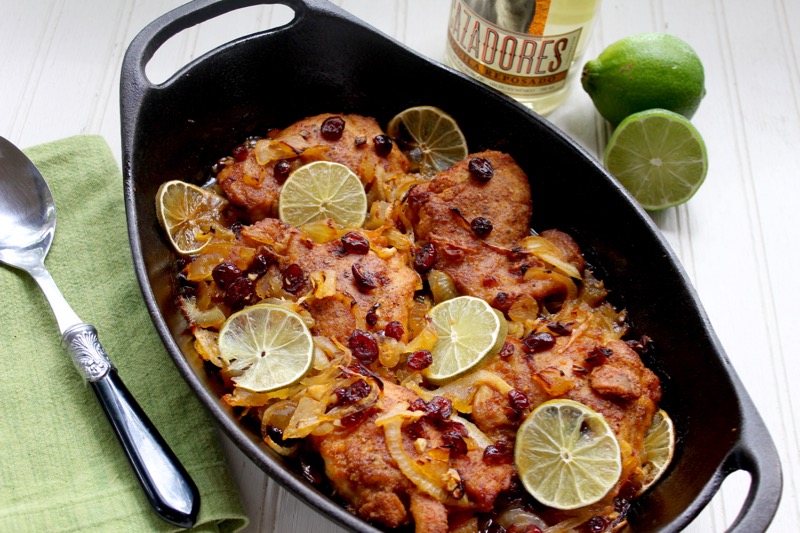 We have a weight loss contest going on in our household.  David and one of our New Year's Eve gang friends, Barbara, have challenged each other to lose 15 pounds.  The first one to do so will get a monetary reward.  They both have been struggling since January 1st with a weigh-in each Monday.  They are both getting close.  It is down to just a few pounds each.  But they have decided to extend the contest to 20 pounds lost.  Needless to say, I have been challenged to put healthy low-fat food on the table.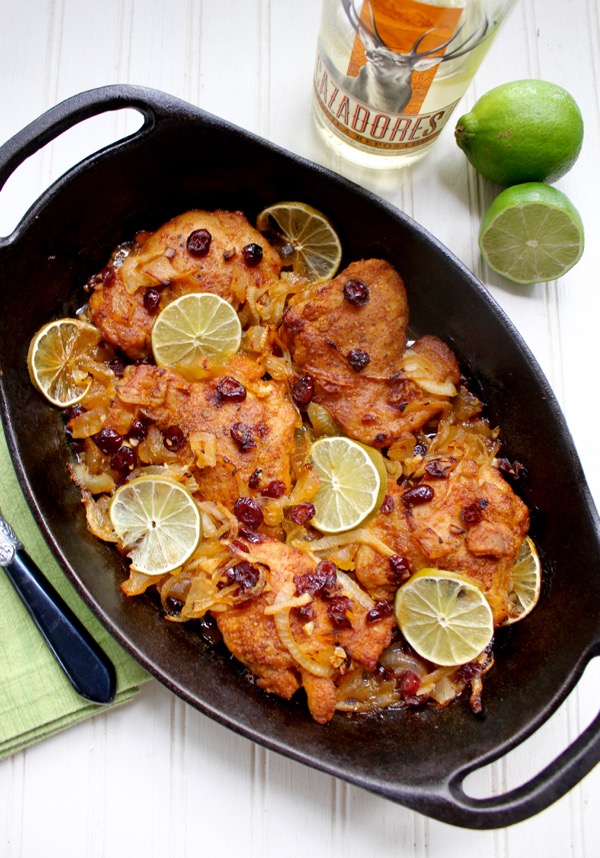 Cooking Light came to the rescue with this Margarita-Braised Chicken Thighs recipe.  The spiced flour coating made the thighs crispy.  The tequila sauce, onions and tropical fruit added juiciness to the oven braised dish.  It was a real winner.  It was also quick and easy.  I served it with farro and broccolini.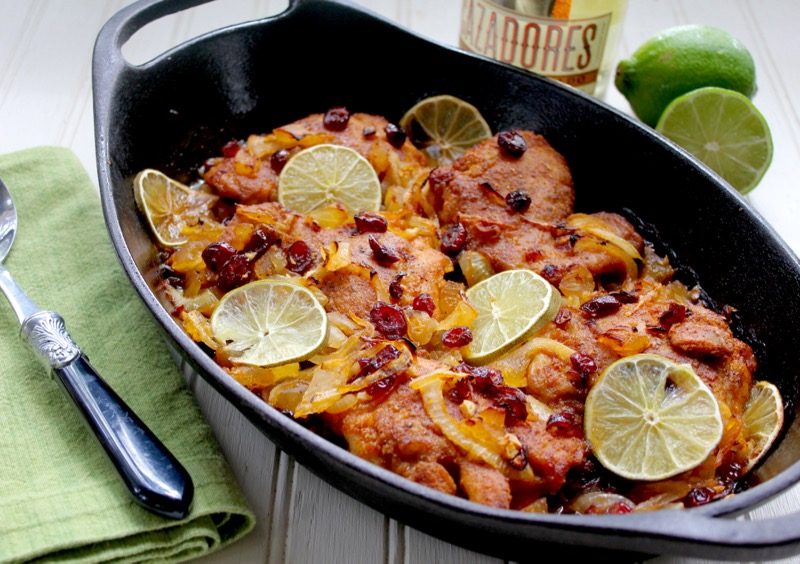 We had this for dinner last night.  It may have done the trick, because David's weigh-in this morning indicated 4 pounds to go to reach the 20 pound goal.  I hope no one gives Barbara this recipe.
MARGARITA-BRAISED CHICKEN THIGHS ( Cooking Light )
1/2 cup flour
1 Tablespoon paprika
2 teaspoons garlic powder
8 skinless, boneless chicken thighs
1/2 teaspoon salt
1 tablespoon olive oil
Cooking Spray
1 cup thinly sliced onion (about 1 medium)
5 garlic cloves, minced
1/2 cup tropical dried fruit (I used a combination of cranberries and pineapple)
1/2 cup fresh orange juice
1/4 cup tequila
1 lime, thinly sliced
Preheat the oven to 400 degrees F. Combine first 3 ingredients in a small baking dish.  Sprinkle chicken with salt; dredge chicken in flour mixture.
Heat oil in a large nonstick skillet over medium-high heat.  Add chicken to pan; cook 4 minutes on each side or until lightly browned.  Transfer chicken to a baking dish coated with cooking spray.  Add onion to pan; cook 3 minutes.  Add garlic, and sauté 1 minute.
Combine fruit, juice, and tequila in a microwave-safe dish, and microwave at high 2 minutes.  Pour fruit mixture into pan; bring to a boil, scraping pan to loosen browned bits.  Cook 1 minute.  Pour onion mixture over chicken; top with lime slices.  Bake at 400 degrees F. for 20 minutes or until chicken is done.  Yield: 4 servings.  350 Calories.