As part of a nostalgia trip, I have decided to share some of my oldie but goodies posts.  I have been at this blogging business for many years and have even surprised myself with some of the recipes I have posted.  I need to make these delicious Boston Cream Pancakes again!  Enjoy.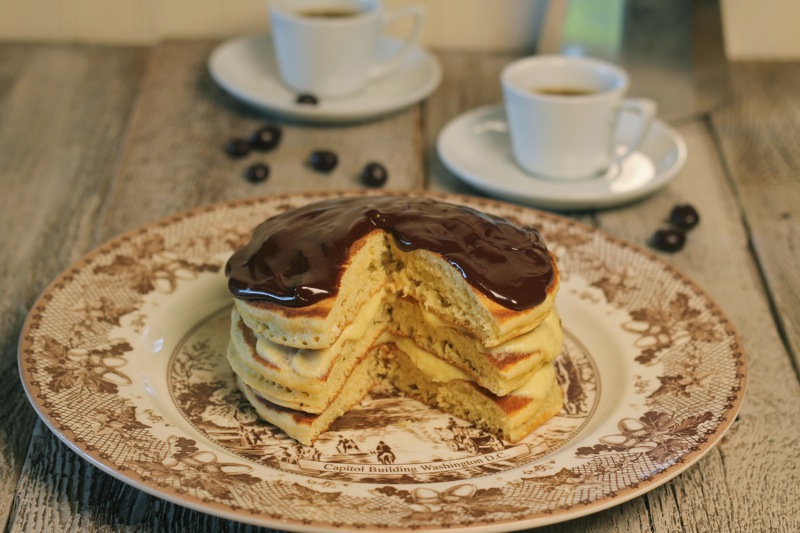 Do any of you remember Long Johns?  No, not the underwear version.  I am talking about the doughnuts. When I was young, my Father would always go to the local bakery on Sunday mornings and come home with a bag of doughnuts.  There would be cinnamon twists, elephant ears, round jelly filled doughnuts and, my favorite, long johns.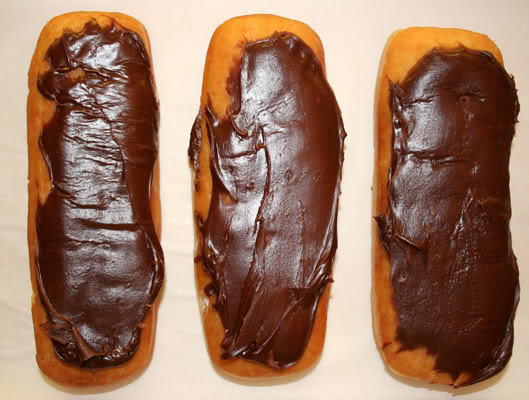 Long Johns are a cake-like doughnut with a pastry cream filling and chocolate ganache smeared on top.  I adored them.  Recently I got a request from a family member who was going to be here for the Labor Day Weekend.  He asked if I would please, please make a recipe for Boston Cream Pancakes that he had seen online on the Country Cleaver website.  The pancakes are based on the Boston cream pie which was created by Armenian-French chef M. Sanzian at Boston's Parker House Hotel in 1856.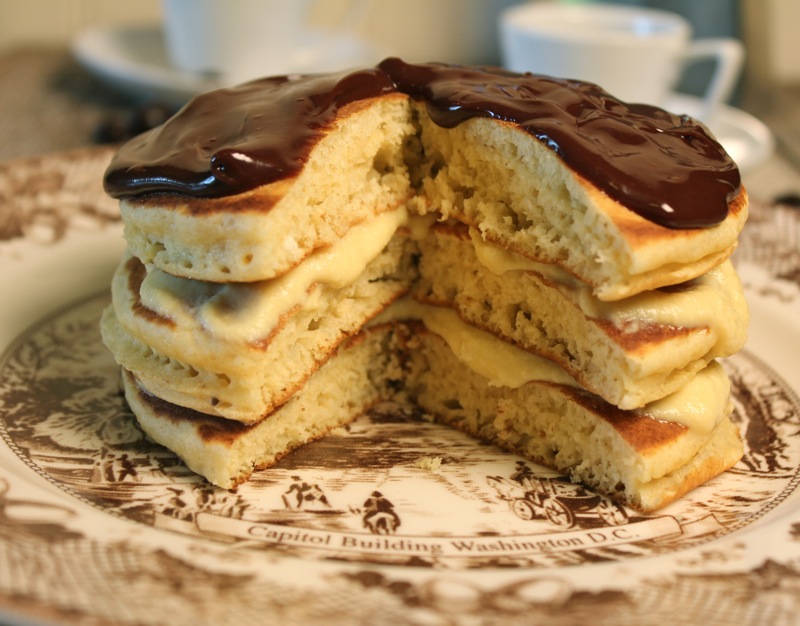 I made them for breakfast one morning during the Labor Day weekend but never got a picture because they were devoured so quickly.  All I could think of when I ate them were those wonderful long johns that I had eaten as a child.  The fluffy pancakes, the smooth pastry cream and the decadent chocolate ganache all conspired to bring the flood of memories back.  I tucked the leftover ganache and pastry cream in the freezer because I knew that they would be making a repeat performance in my kitchen.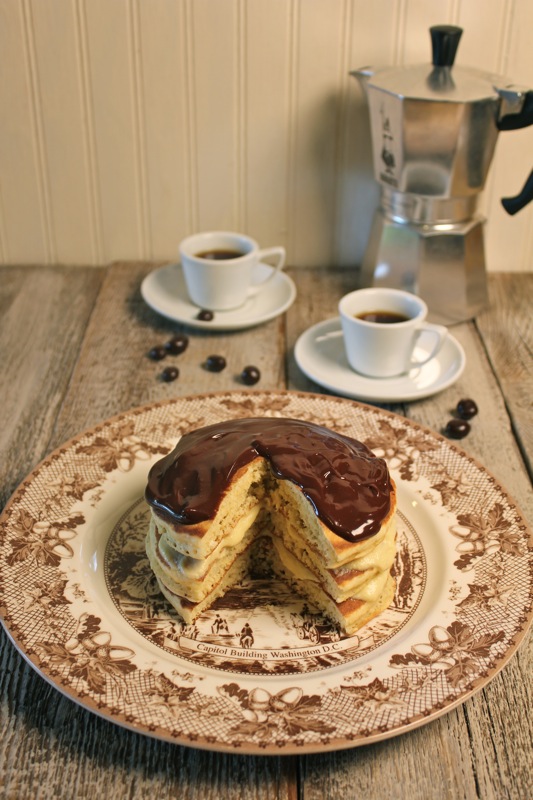 We had them for breakfast again on this beautiful Saturday morning, a day after my birthday. They were a welcome indulgence.  Sometimes you just have to eat like you are a kid again and stop worrying about calories, fat and sugar and how old you really are.  The pancakes themselves are an easy combination of yellow cake mix and Bisquick.  They are light and fluffy.  The pastry cream can be made way in advance and the chocolate ganache is easy.  I would recommend these pancakes to you for any special occasion, whether it be for a birthday or just because  it is a sunny day.  Indulge!
BOSTON CREAM PANCAKES (Country Cleaver Website)
ingredients:
Pancakes: Makes about 12 pancakes
1 cup Yellow Cake Mix
1 cup Dry Pancake Mix such as Bisquick
1 cup Milk
1 tsp Vanilla
2 whole Eggs
Pastry Cream:
1/3 cup Sugar
5 Egg Yolks
1 1/2 Tbsp Cornstarch
1 cup Milk
1 cup Half-n-Half
1 Vanilla Bean, split and seeds scraped (or 2 1/2 Tbsp Vanilla Extract)
1 Tbsp Butter
Chocolate Ganache:
8 oz. Chocolate
1 cup Heavy Cream
directions:
Directions:
Pastry Cream: Make up to 24 hours in advance and refrigerate until 1 hour prior to use.
In a medium saucepan, heat the milk, heavy cream and vanilla bean to a boil over medium heat. Immediately turn off the heat and set aside to infuse for 10 to 15 minutes. In a bowl, whisk the egg yolks and granulated sugar until light and fluffy. Add the cornstarch and whisk vigorously until no lumps remain. Temper the eggs by whisking in 1/4 cup of the hot milk mixture until incorporated. Whisk in the remaining hot milk slowly.
Pour the mixture back into the saucepan. Cook over medium-high heat, whisking constantly, until thickened and slowly boiling. Remove from the heat and stir in the butter. Let cool slightly. Press through a fine mesh strainer to remove any curdled bits and remove husk of vanilla bean. Cover strained pastry cream with plastic wrap, and press the plastic wrap on top of the pastry cream to make sure it doesn't form a skin. Chill at least 2 hours or until ready to serve
Chocolate Ganache:
In small saucepan, heat heavy cream. Stir in chocolate and whisk until melted and the two are completely combined. Remove from heat and set aside.
Pancakes:
In large bowl, whisk together pancake mix and cake mix. Stir in milk, eggs and vanilla until the mixture is smooth. Heat a large griddle or large pan over medium high heat. Spray with non-stick cooking spray. Pour 1/3 cup of batter into pan or griddle and allow to cook until golden brown on the bottom, 2-3 minutes. Gingerly flip pancake over and continue to cook until the other side has turned golden brown – about 1 ½ minutes. Remove from griddle/pan and allow to cool.
To assemble – stack pancakes and layer with prepared pastry cream between each pancake. Pour chocolate ganache over the top and promptly devour.