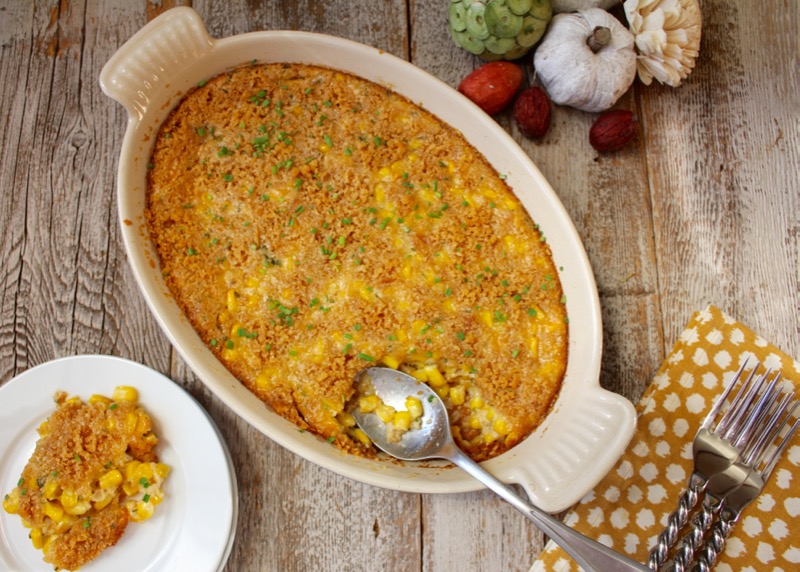 Family traditions play a big part in most get togethers over the Thanksgiving holiday.  The same dishes are served year after year.  I remember that no one could make better dressing than my Mother. It was a classic bread dressing with basic ingredients and loved by all.  I blogged about it here.   But this year I am sharing a recipe that is not one of my family's traditions.  Rather, it comes from Cory Baldwin; a  food writer and contributor to the Food52 website.  This Angel Corn Casserole is a part of her family heritage, passed down from her Grandmother.  It is indeed delicious and worthy of the holiday.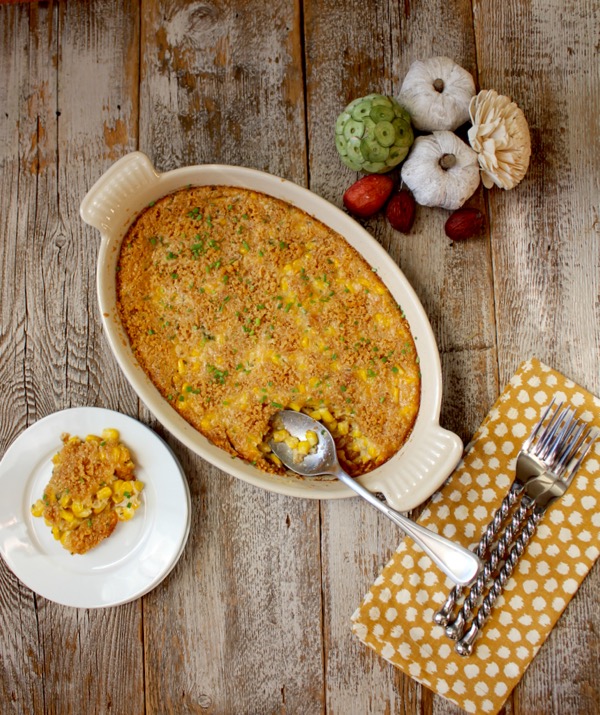 I tried to research the term "angel" in describing this dish, but found no explanation.  I am going to assume that family members thought that the taste was heavenly.  That is not hard to believe after tasting it.  The corn is combined with crushed Ritz crackers, heavy cream, eggs, brown sugar, butter and nutmeg.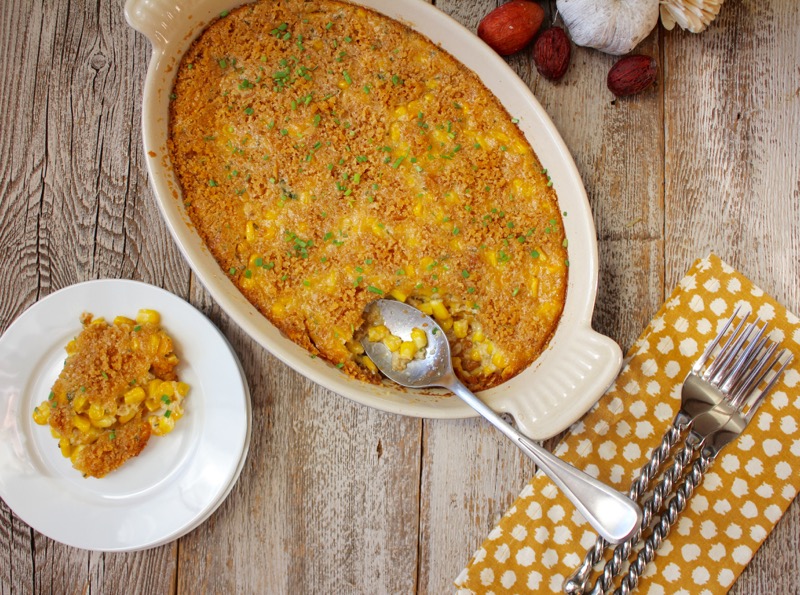 I plan to make this again for our Thanksgiving with the extended family.  It calls for frozen corn kernels.  I have decided to use a different frozen corn this time.  I am going to look for small white shoe peg corn.  Since we are traveling, I appreciate that the Angel Corn Casserole can be made ahead.  Hopefully, it will become a part of our family traditions also.  Happy Thanksgiving everyone.
ANGEL CORN CASSEROLE ( From Cory Baldwin via Food52 )
2 

(16-ounce) bags frozen corn (or about 4 1/2 to 5 cups fresh corn kernels)

2 

large eggs

2 cups 

heavy cream

2 tablespoons 

brown sugar

2 tablespoons 

snipped fresh chives, plus more for optional garnish
1/4 teaspoon freshly grated nutmeg

8 tablespoons 

(1 stick) unsalted butter, melted

1 cup 

plus a heaping 1/3 cup crumbled Ritz crackers, divided
Salt and lots of freshly ground black pepper, to taste
Preheat oven to 350°F. Lightly butter a large 9×13-inch casserole dish.
If using frozen corn, steam and drain the kernels. If using fresh, scrape kernels off the cob.
Beat the eggs, cream, and brown sugar in a large bowl until just blended. Stir in chives and nutmeg. Season to taste with salt and pepper. Stir in corn kernels.
Combine 1 cup of the crumbled Ritz crackers with 6 tablespoons of the melted butter. Add to the corn mixture. Stir until combined. Pour into the casserole dish.
Toss remaining cracker crumbs with the remaining 2 tablespoons melted butter. Sprinkle buttered crumbs over the top of the pudding.
Bake uncovered until golden brown and slightly firm to the touch, about 45 minutes.
Optional: Garnish with more snipped fresh chives.