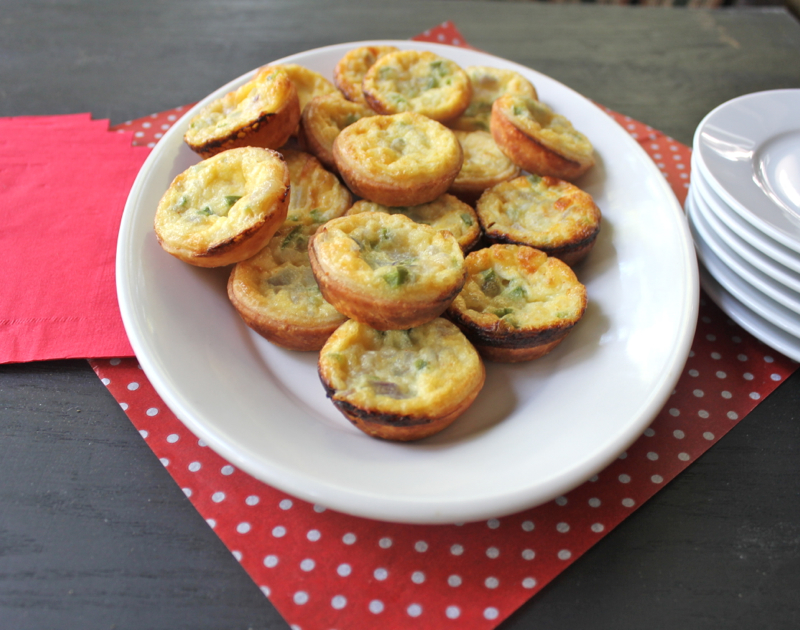 We recently spent a wonderful afternoon and evening with one of my favorite bloggers.  Sam of My Carolina Kitchen, her husband Meakin, and his brother Stuart and his wife Sandy journeyed from Murphy, NC to Asheville for an evening of dining at one of their favorite restaurants, Rezaz.  They asked us to join them at The Chef's Table for a 5 course Provencal dinner.  There will be more about our evening in my next post.  Since they had not been to Lake Lure before, David and I invited them over for hors d'oeuvres and an afternoon on the lake.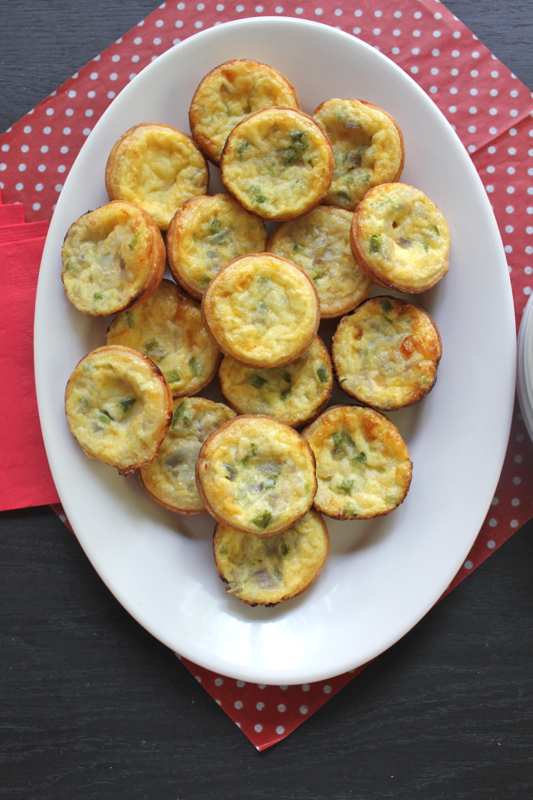 I attempted to keep the appetizers light in anticipation of our full dinner.  We served a French Rose wine to keep the French theme going.  I served a simple platter of peppered dry-aged salami with hot house cucumbers, this red pepper cheesecake with crackers and grapes, and these mini quiches.  I had been wanting to make these mini-quiches for a long time.  They proved to be very easy to assemble.  Many of the steps can be done ahead of time.  Both the crust and filling have aged white cheddar cheese.  The leek and sweet pepper filling was a perfect choice.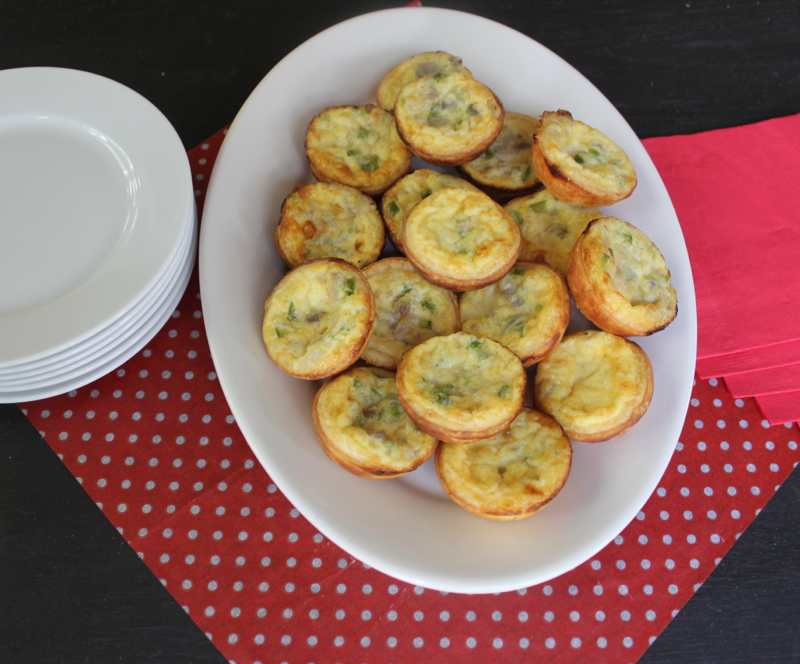 The recipe was adapted from Williams-Sonoma's Hors D'Oeuvre Cookbook.  I think my mini-muffin pan had larger circumference holes than what the recipe called for.  Mine measured 2-inches and I used a 2 1/2-inch biscuits cutter to cut out the pastry rounds.  Just measure what you have and cut the rounds 1/2-inch larger.  Also I had leftover pastry and filling because I made only 24 quiches.  I plan to make these again and plan to get creative with the filling.
We enjoyed spending time with the Hoffers and I can hardly wait to tell you about our dinner.  I know Sam will be posting about it also.
Here is a preview of the ambiance for the 5 course French dinner at the Chef's Table at Rezaz.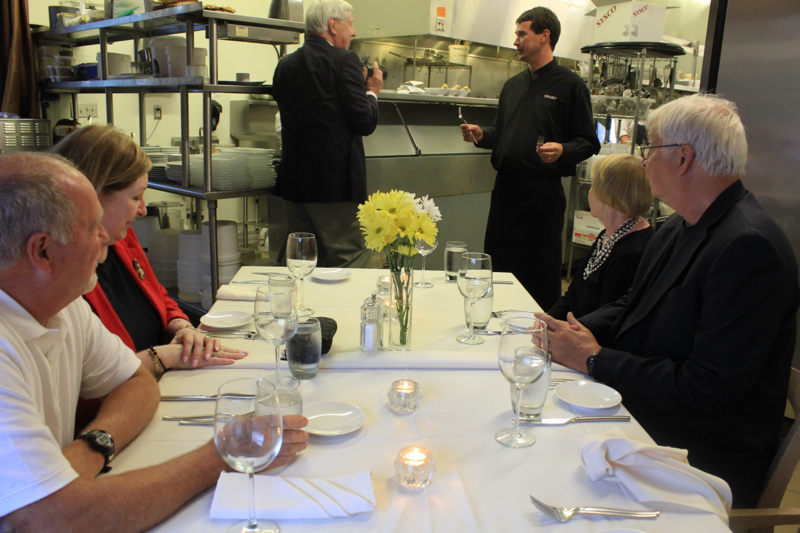 LEEK AND SWEET PEPPER MINI-QUICHES
Cheddar Pastry:
1/4 pound white Cheddar cheese, cut into small chunks
1 1/2 cup all-purpose flour
1/4 teaspoon salt
1/2 cup cold unsalted butter, cut into small pieces
1 egg
2 tablespoons cold water
In a food processor, pulse the cheddar cheese chunks until crumbly.  Add the flour and salt.  Pulse until cheese is finely crumbled.  Add the cold butter pieces and pulse until it resembles fluffy bread crumbs.  Drizzle 1 lightly beaten egg over mixture and pulse twice.  Scrape down bowl sides.  Sprinkle 2 tablespoons cold water over the mixture and pulse until a rough mass forms.  If the mixture doesn't come together, add another tablespoon of water.
For the Filling:
1 1/2 tablespoon butter
1 leek, white part only, or 2 large shallots, finely chopped
1/2 small red or green bell pepper, seeded and cut into 1/4-inch dice
1/4 pound dry-aged white cheddar cheese, grated
2 eggs
1 1/2 cups heavy cream
3/4 teaspoon Dijon mustard
Salt
1/8 teaspoon cayenne pepper
Place the Cheddar pastry on a lightly floured work surface and shape into a smooth ball.  Divide in half.  Roll out half into a large round 1/8-inch thick, pushing the dough outward from the center and rotating it about a quarter turn each time you roll, sprinkling more flour underneath as needed.  Using a 2 to 2 1/2-inch cookie cutter, cut out as many pastry rounds as possible and ease them very gently into the cups of a mini-muffin pan.  Gather up the scraps, reroll, cut out additional rounds, and line additional cups.  Repeat with the remaining dough half, working in batches if necessary.  You should have 48 lined cups in all.
Preheat the oven to 400 degrees F.  In a small saute pan over medium-low heat, melt the butter.  Add the leek and saute gently, stirring occasionally, until it is tender but not browned, about 5 minutes.  In a bowl, combine the leek, bell pepper and cheese.  In another bowl or large measuring cup, whisk the eggs until they are blended, then whisk in the cream, mustard, 3/4 teaspoon salt, and cayenne.  Add the egg mixture to the cheese mixture and whisk to combine.  Pour 1 tablespoon of the filling into each of the pastry shells, evenly distributing the solids and liquid.
Bake the quiches until they are puffy and golden brown, about 20 minutes.  Transfer to a rack to cool for 5-10 minutes (they will sink a little as they cool).  To loosen them from the muffin cups, run a then-bladed knife around the sides, then carefully lift out of the cups.  (At this point, you can allow them to cool for an hour o two, and then reheat them in a 350 degree oven for 10 minutes.  They will not be as as crisp, however.)  Arrange on a platter and serve.