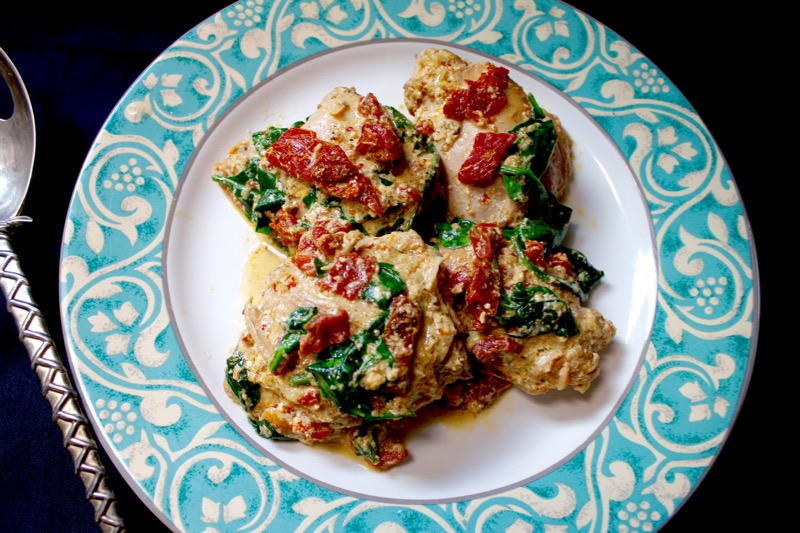 Even though we are not feeling the numbing cold of the North, this hearty slow cooker chicken dish hits all of the comfort notes associated with cold weather.  So for a short while I will indulge my fantasies of snow and enjoy this flavor-filled dish. We have been in Florida for two weeks.  So far the weather has been lovely.  I have enjoyed the local New Smyrna Beach farmers' market and being able to walk to town for a quick bite at the local restaurants.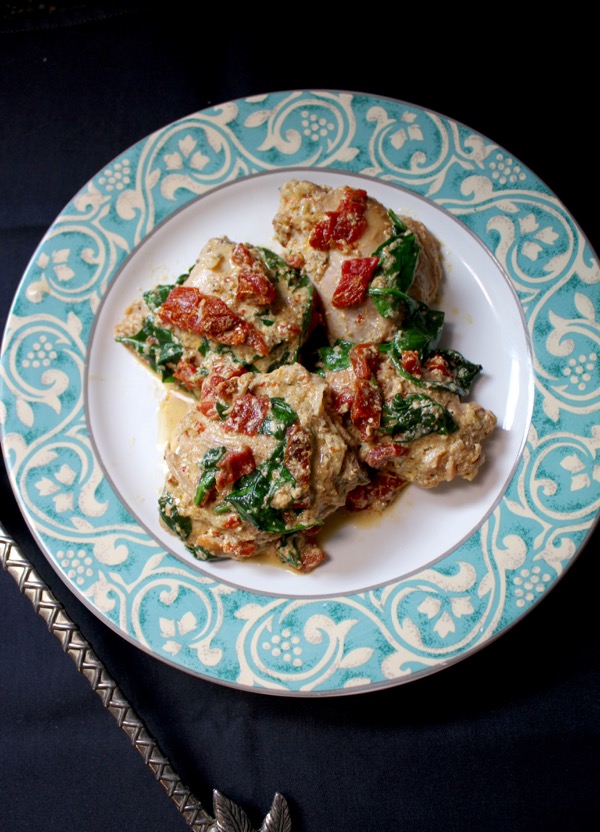 When I saw this recipe on-line for this Tuscan chicken dish, it brought back memories of our trip to Italy.  Part of the beauty of Tuscan recipes is the simplicity of the ingredient.  Simple chicken thighs are paired with a creamy Parmesan sauce and enhanced with lots of garlic, Italian herbs, sun-dried tomatoes and baby spinach.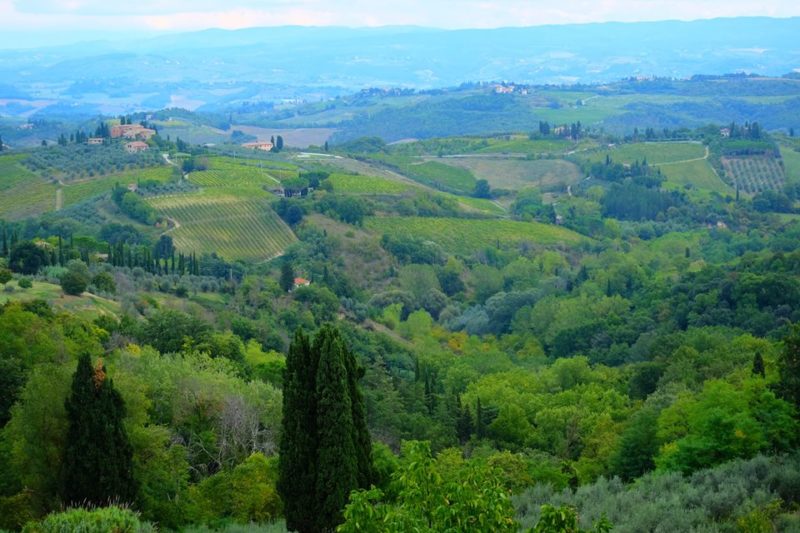 The rolling hills of Tuscany produce wines, garden fresh vegetables, cheeses and pasture raised poultry.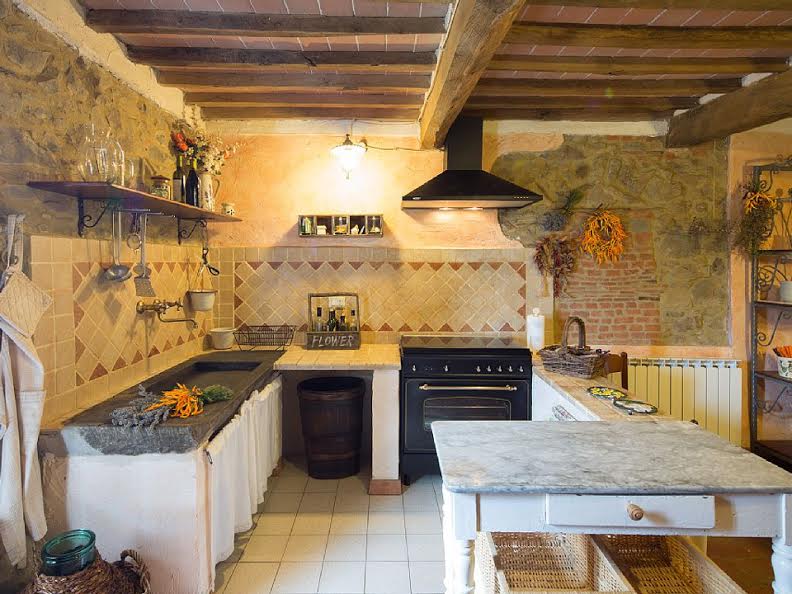 We were fortunate to find a lovely villa in the Tuscan countryside.  I have fond memories of cooking in this kitchen.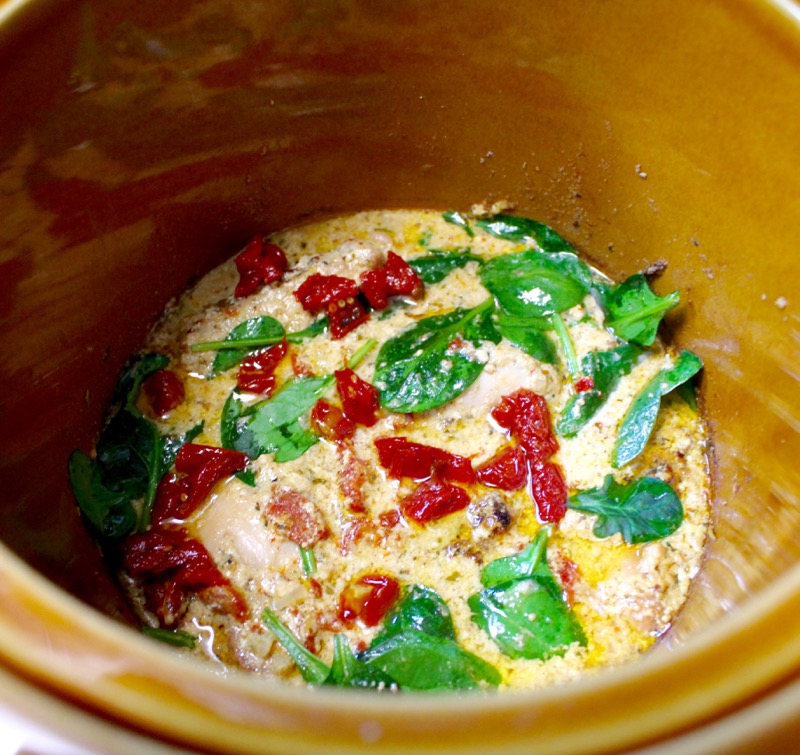 The crock-pot in my Florida rental house is old and smaller than what I have at home.  But it was just big enough for four chicken thighs to bubble away in the creamy sauce.  On a January day, I was warmed by both this hearty chicken dish and by memories of the Tuscan countryside.  Recipe came from eatwell 101.
CROCK-POT TUSCAN GARLIC CHICKEN WITH SPINACH AND SUN-DRIED TOMATOES
6 -8 skinless, bone-in chicken thighs
1 tablespoon olive oil or butter
6 cloves garlic, minced
1 cup heavy cream
1/3 cup chicken broth
3/4 cup grated Parmesan cheese
1 tablespoon Italian seasoning
1 teaspoon crushed red chili pepper flakes, optional
Sea salt and fresh cracked black pepper
1/2 cup Sun-dried tomatoes (chopped)
2 cups Spinach (chopped, packed)
Heat oil or butter in medium sauce pan over medium heat.  Add garlic and saute for about a minute, until fragrant.
Add the cream and chicken broth.  Bring to a gentle simmer, then set heat to low and simmer for about 10 minutes.  The sauce should thicken enough to coat the back of a spoon.
Meanwhile, place the chicken at the bottom of your slow cooker.  Season lightly with Italian seasoning, crushed red chili pepper flakes, sea salt, and black pepper.  Top with sun-dried tomatoes.
When the cream sauce is ready, lower the heat and whisk in the Parmesan cheese, little by little until smooth.  Adjust seasoning as needed.
Pour the cream sauce evenly over the chicken thighs in the slow cooker.  Try to get as much sauce as possible on top of the chicken and less on the bottom.
Cook for 3-4 hours on HIGH or 6-8 hours on LOW.  When cooking time is over, remove the chicken from the slow cooker and set aside.
Turn the slow cooker on HIGH, if it sin't already.  Add the chopped spinach and stir for a few minutes, until the spinach wilts.
Return the chicken to the slow cooker, and spoon the liquid, spinach and sun-dried tomatoes on top, or just pour them over the chicken when serving.