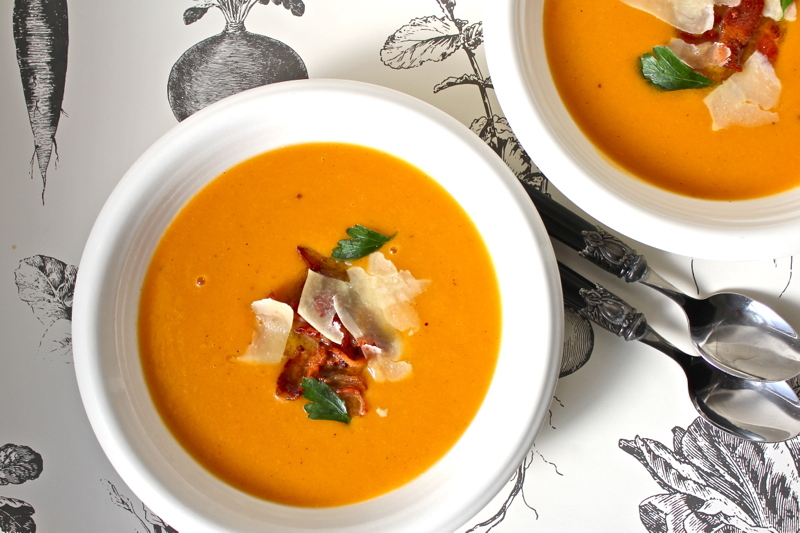 It has been quite a week.  Even with a simple kitchen remodel, daily tasks can revert to chaos.  We were able to use our kitchen during the facelift, but because of a leak under the sink, washing dishes was a problem.  I ended up washing dishes in the sink in the garage.  We have eaten simple soups, grilled steaks with baked potatoes and homemade pizza.  This sweet potato soup was one of my favorites.  Not only was it easy, but it was delicious.  When you are in the middle of a project, cooking sweet potatoes in the microwave is a blessing.  Add them to some chicken broth, seasonings, and a quick whir in the immersion blender and dinner is ready.  The bacon, shaved parmesan and parsley is just an added bonus if you have the time.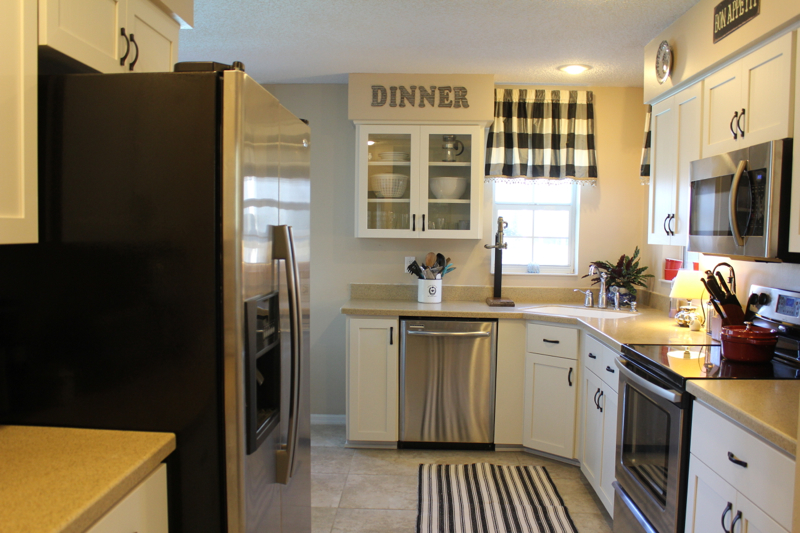 Here is a sneak peek of the kitchen remodel.  I will show you more later because not everything is finished.  The contractors were one door short on  the order.  The cabinet to the right of the stove is missing a door.  We also need the contractors to come back to re-adjust shelf heights in one cabinet.  Other than that, we are very pleased with the results.  The cabinets are a shaker style with a subtle bead board panel inset in each door.  To break things up, I requested glass doors in the cabinet over the dishwasher.  I store all of my glassware and cream colored dishes there.   Because we still have soffits over the cabinets, I decided to get creative on top.  I bought inexpensive corrugated metal letters spelling out "Dinner" to add an industrial element to the design.  I already had a "Bon Appetit" sign and black and cream plates on the other wall above the stove.  More later.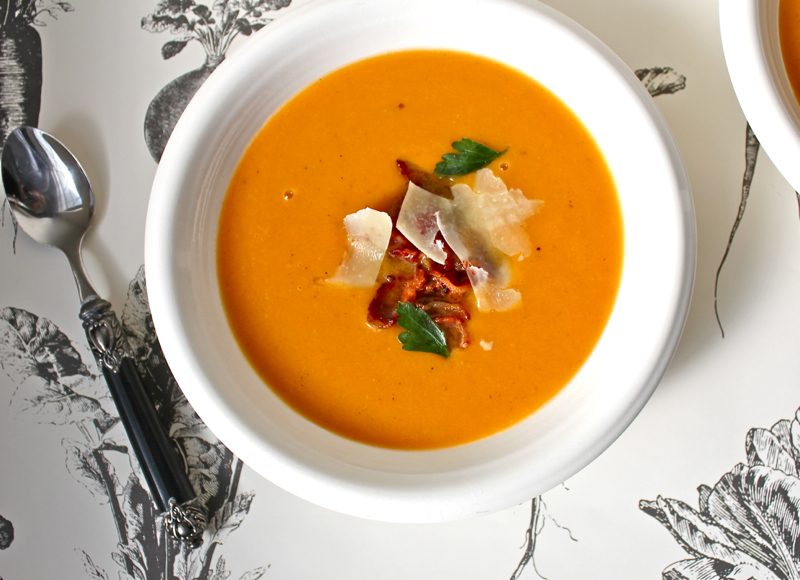 This creamy sweet potato soup came together so quickly, that I thought to myself," I need to have these ingredients on hand at all times for a quick and easy meal".  David is not always a fan of sweet potatoes, but this soup convinced him otherwise.  It is thick and hearty.  The crisp bacon and Parmesan shavings complement the whole bowl to perfection.
On another note, hold all of your family and friends close.  We have just lost a dear friend from our college years to cancer.  John will be missed.  My, where have the years gone and why do we have to start dealing with the lose of friends?  I am not ready.
I am linking this to Foodie Friday at Rattlebridge Farm.
CREAMY SWEET POTATO SOUP ( Cooking Light )
2 pounds sweet potatoes, halved lengthwise (about 2 large)
1/4 cup water
2 teaspoons olive oil
1 cup chopped onions
1/2 teaspoon ground cumin
1/4 teaspoon crushed red pepper flakes
4 cups unsalted chicken stock
1/4 teaspoon salt ( I added more )
6 bacon slices, cooked and crumbled
1 ounce fresh Parmesan cheese, shaved (about 1/4 cup)
2 tablespoons flat-leaf parsley leaves
Place potatoes, cut sides down, in an 11 x 7-inch microwave safe baking dish.  Add 1/4 cup water; cover with plastic wrap.  Microwave at HIGH 15 minutes or until potatoes are tender.  Cool slightly; discard potato skins.
Heat a saucepan over medium-high heat.  Add oil; swirl to coat.  Add onion; saute 1 minute or until translucent.  Stir in cumin and red pepper.  Add stock to pan; bring to a boil.  Add sweet potatoes and gently mix in breaking them up slightly.  I used an immersion blender to puree the mixture.  If you do not have an immersion blender,  mix half of the mixture at a time in a blender or food processor until smooth.  Return to pan to reheat.
Divide soup evenly among 4 to 6 bowls; sprinkle cooked bacon and Parmesan cheese evenly over top.  Garnish with parsley, if desired.