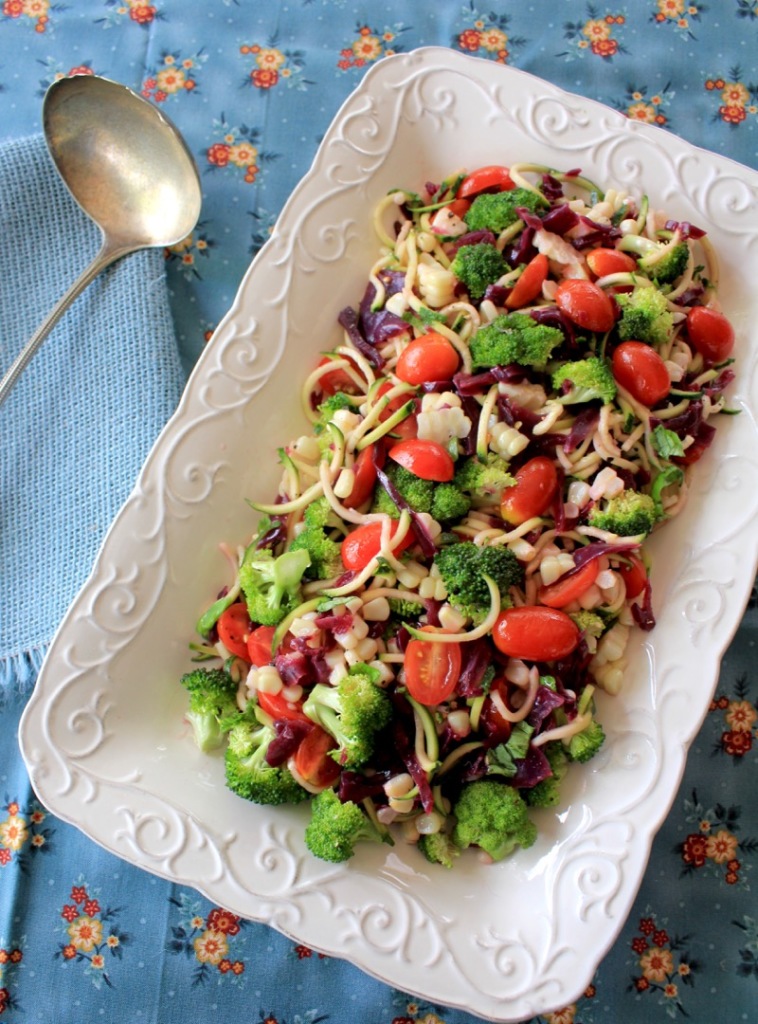 We did not need another kitchen gadget.  But the concept was too good to ignore.  To be able to make thin ribbons from zucchini, sweet potatoes, potatoes or any myriad of vegetables appealed to me.  The Spiralizer was on sale at William Sonoma.  I am glad that I spent the $29.00 for it.  We have used it many times already. Spiralized zucchinis are called zoodles.
While on Facebook one day, this recipe for a salad with spiralized zucchini and other raw vegetables popped up.  It was one of those streaming videos with all of the instructions delineated. I made it.  We loved it.  I just made it again.  It is easy and uses all of my favorite raw vegies.  The only ingredient that I cooked was the corn.  I bought two ears of corn and blanched them briefly.  But the other ingredients are raw.  It has a light mustardy vinaigrette dressing that gives just the right amount of flavor.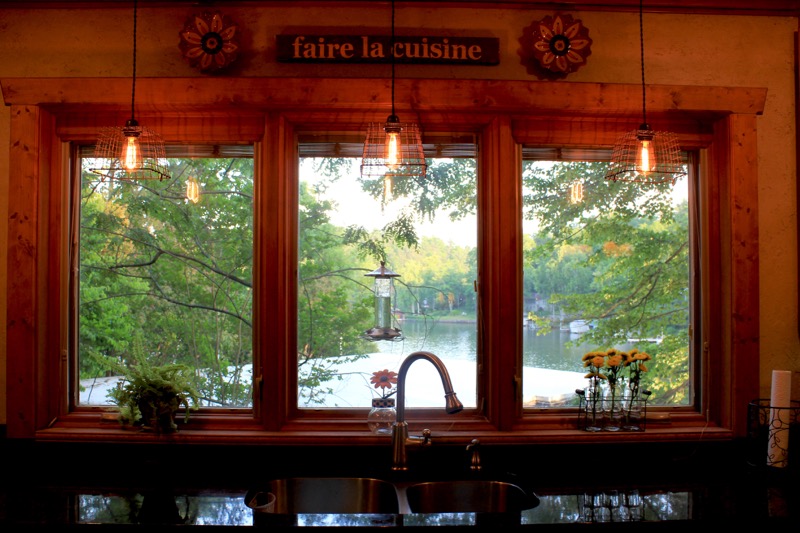 The cottage has some new lights.  Originally, we had some inexpensive Lowe's pendant lights hanging over the sink area.  I have been wanting to replace them with more industrial wire cage pendants with Edison light bulbs.  While shopping at a furniture store in Black Mountain, I found these.  I love them.  Convincing David was another matter.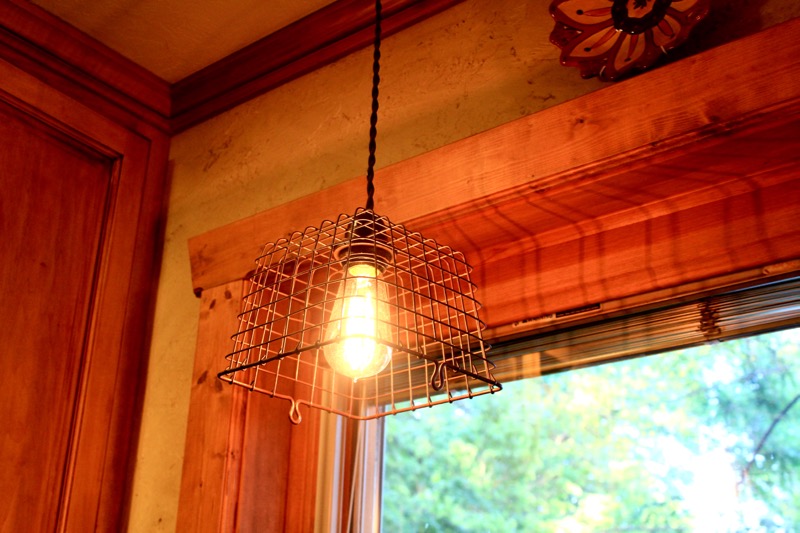 David is all about energy efficient bulbs.  I am not sure that these Edison light bulbs are that bad.  After all, they are only 40 watts each.  His other argument against the lights was that  he loved our old fixtures. Some husbands don't notice or care about design elements.  He is not one of them.  Sometimes I love that, other times . . . not so much.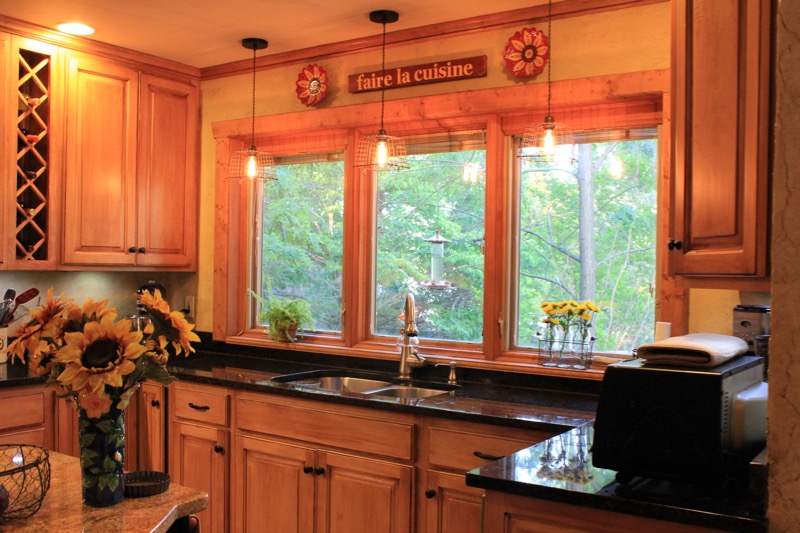 I prevailed because it was Mother's Day and I promised to turn the lights on only when necessary.  Mother's Day holds much power.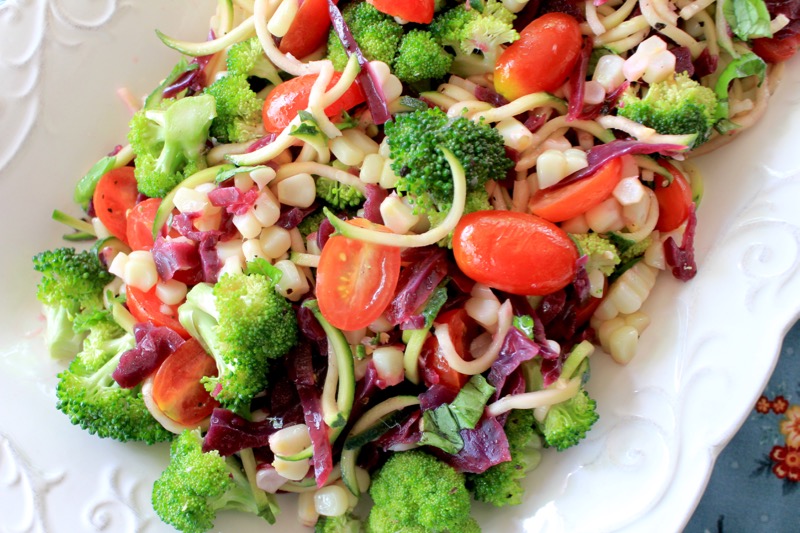 I hope that you will love this salad as much as we have.  It is something that makes you feel good about what you are eating, but is so good that you would eat it even if it wasn't good for you.  One night we had it with salmon . . . one night with ribs. Either way you can feel righteous.
ZOODLE MIXED SALAD
3 Tablespoons Olive Oil
Juice of 1 lime
3 Tablespoons white vinegar
1 Tablespoon Honey
1 to 2 Tablespoons grainy mustard
Salt and Pepper to taste
2 Zucchinis spiralized or shredded
3/4 cup red cabbage sliced thinly
2 ears of corn, blanched and cut from cobs
1 cup of broccoli florets cut small
15 grape tomatoes cut in half
1/4 cup fresh basil, chopped
In a large bowl mix the olive oil, lime, vinegar, honey, mustard and salt and pepper until emulsified.  Add the remaining ingredients and toss until coated with dressing.  Refrigerate for at least 1/2 hour for flavors to meld.  Serve.  Leftovers will keep in fridge for a few days.