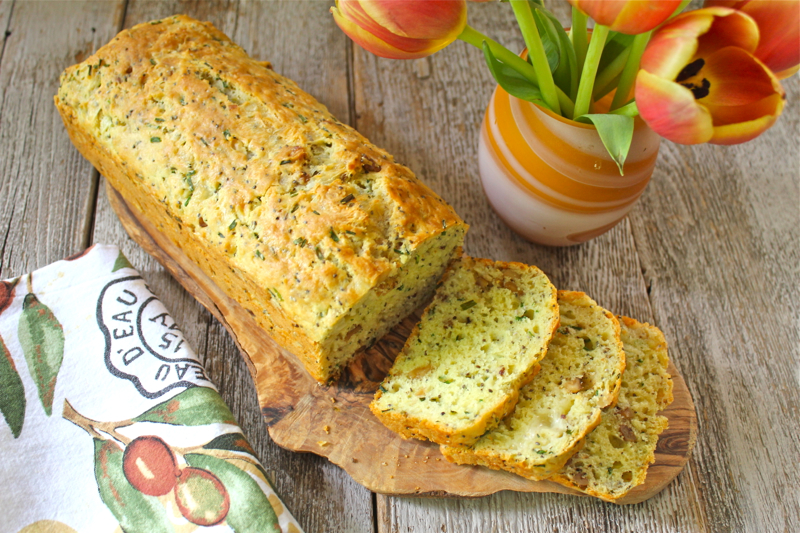 This may look like an American quick bread, but according to Dorie Greenspan, it has a French soul.  Savory breads, cake sale', are served all over France with apperitifs. What is so nice about this bread, other than its wonderful taste, is that it is indeed quick and easy.  After you grate your cheese, toast your walnuts and snip your chives, it is just a matter of mixing the wet ingredients with the dry and baking in a loaf pan.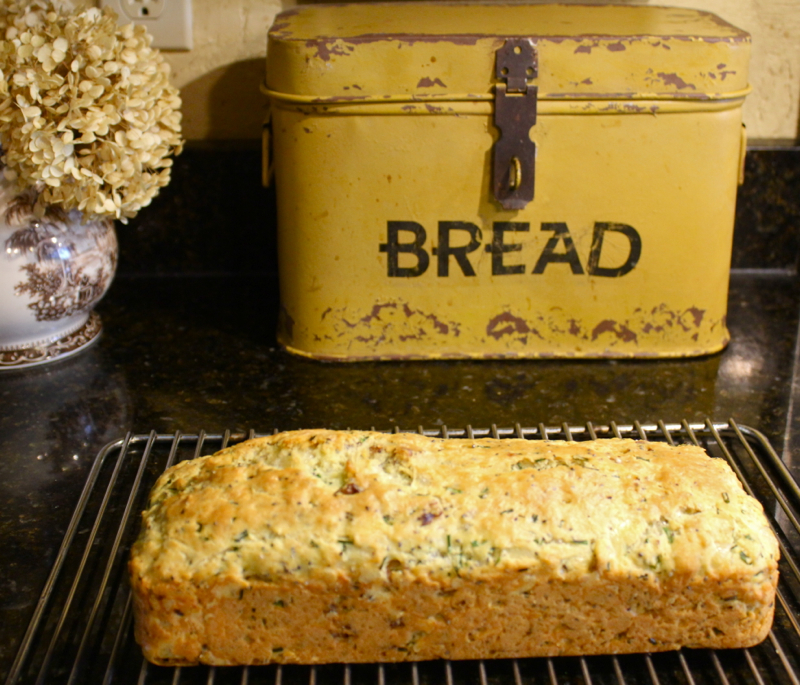 The aroma from the oven was heady.  I was impatient to cut into the bread even before it had cooled.  I managed to get a few shots of it before we dug into it.  David, who has been avoiding carbs, said it was the best bread I had ever made as he nibbled away at one small piece after another.  We have eaten it with salads, as an accompaniment to grilled chicken and as toast for breakfast.  It is best that way.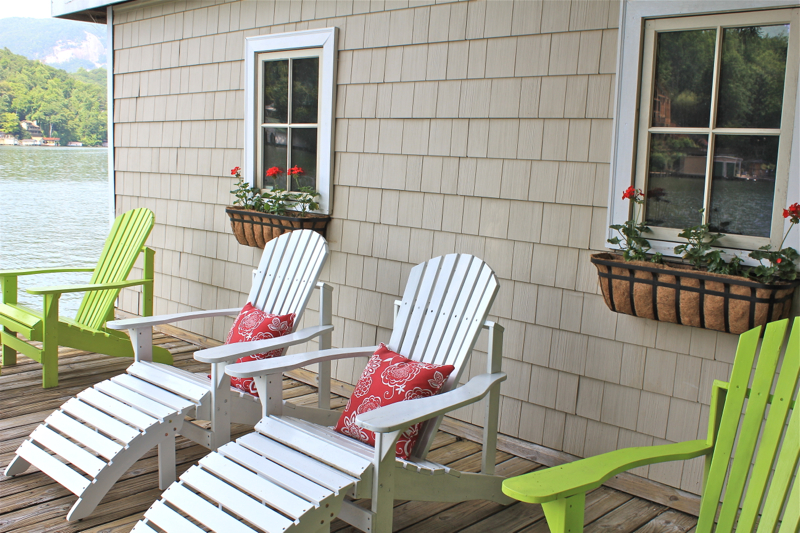 We have almost finished with the dock in preparation for the summer festivities.  We ordered new window boxes for the boathouse windows and I planted some geraniums.  I will add some trailing greens and white vinca when I make it to the garden center.  David got a little carried away with the spray paint and was thinking about Should You Encapsulate Lead Paint in Your Home? or not.  The green chairs used to be a more subdued shade of green, but the neon color is starting to grow on me.  Now at least I can tell boaters clearly where we live;  the boat house with the bright lime green chairs.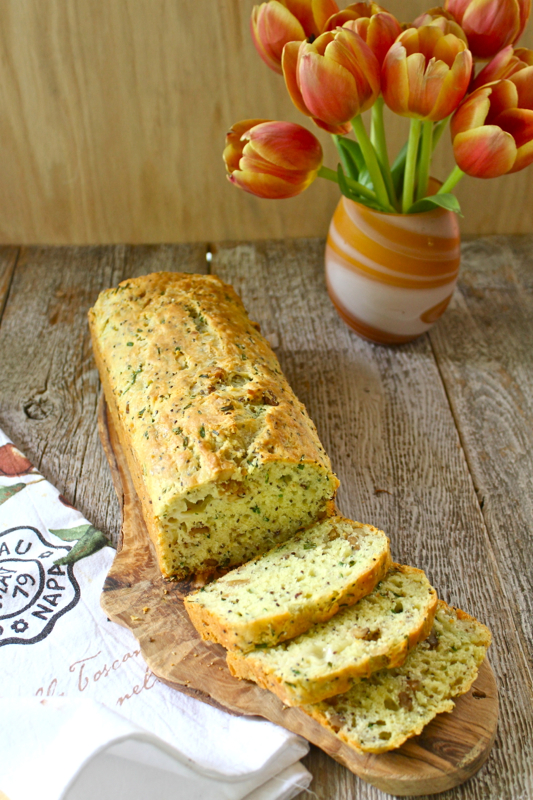 This savory bread would be great with any of your Memorial Day picnic offerings.  Let's remember our Veterans on this very special weekend.  My Father was a proud Marine who served duty in Guadalcanal during the Second World War.  My Brother, Bill, served two tours of duty in Vietnam.  They make me so proud. You can click to read more about it in this post.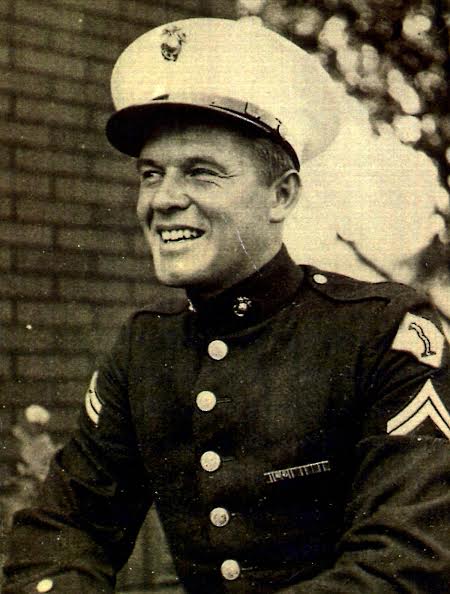 Semper Fi.  And Happy Memorial Day.
SAVORY CHEESE AND CHIVE BREAD ( Dorie Greenspan's Around my French Table )
1 3/4 cups all-purpose flour
1 tablespoon baking powder
1/2-1 teaspoon salt (depending on what cheese and add-ins you're using )
1/4 teaspoon freshly ground white pepper (or more to taste; you could even add a pinch of cayenne )
3 large eggs, at room temperature
1/3 cup whole milk, at room temperature
1/3 cup extra-virgin olive oil
1 generous cup coarsely grated Gruyere, Comte', Emmenthal, or cheddar (about 4 ounces)
2 ounces Gruyere, Comte', Emmenthal or cheddar, cut into very small cubes (I omitted this)
1/2 cup minced fresh chives or other herbs (or thinly sliced scallions)
1/3 cup toasted walnuts, chopped (optional)
Center a rack in the oven and preheat the oven to350 degrees F.  Generously butter an 8-x-4 1/2-x-2 3/4-inch loaf pan – a Pyrex pan is perfect here.  If your pan is slightly larger, go ahead and use it, but your loaf will be lower and you'll have to check it for doneness a little earlier.
Whisk the flour, baking powder, salt, and white pepper together in a large bowl.
Put the eggs in a medium bowl and whisk for about 1 minute, until they're foamy and blended.  Whisk in the milk and olive oil.
Pour the wet ingredients over the dry ingredients and, using a sturdy rubber spatula or a wooden spoon, gently mix until the dough comes together.  There's no need to be energetic – in fact, beating the dough toughens it – nor do you need to be very thorough: just stir until all the dry ingredients are moistened.  Stir in the cheese, grated and cubed, the herbs, and the walnuts, if you're using them.  You'll have a thick dough.  Turn the dough into the buttered pan and even the top with the back of the spatula or spoon.
Bake for 35 to 45 minutes, or until the bread is golden and a slender knife inserted into the center comes out clean.  Transfer the pan to a cooling rack and wait for about 3 minutes, then run a knife around the sides of the pan and turn the loaf over onto the rack; invert and cool right side up.