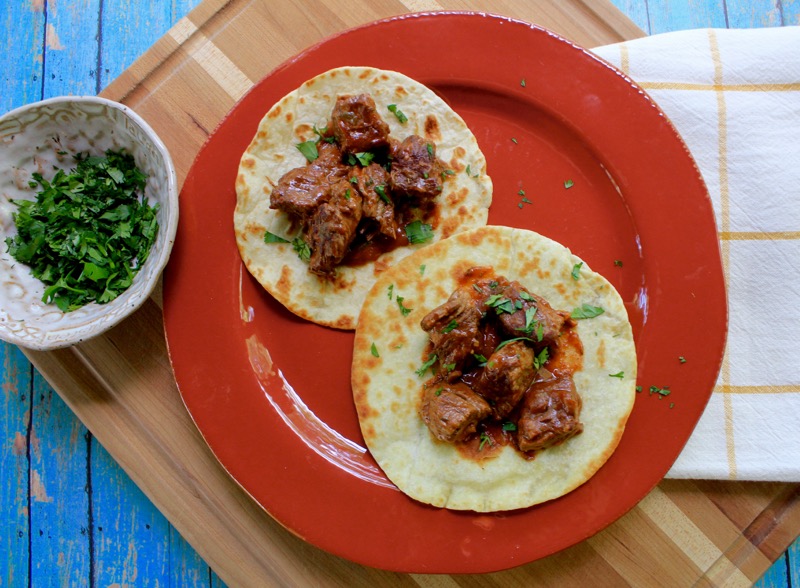 Carne Guisada is a Tex-Mex dish whose translation is "Stewed Meat". In Josef Centeno's new cookbook, Amá; a Modern Tex-Mex Kitchen there is no doubt that this stew shines in its simplicity. It is nothing more than beef chunks cooked with chilis, spices, tomatoes and beef broth. The 3 hours in the oven meld the flavors and soften the meat into succulent pieces.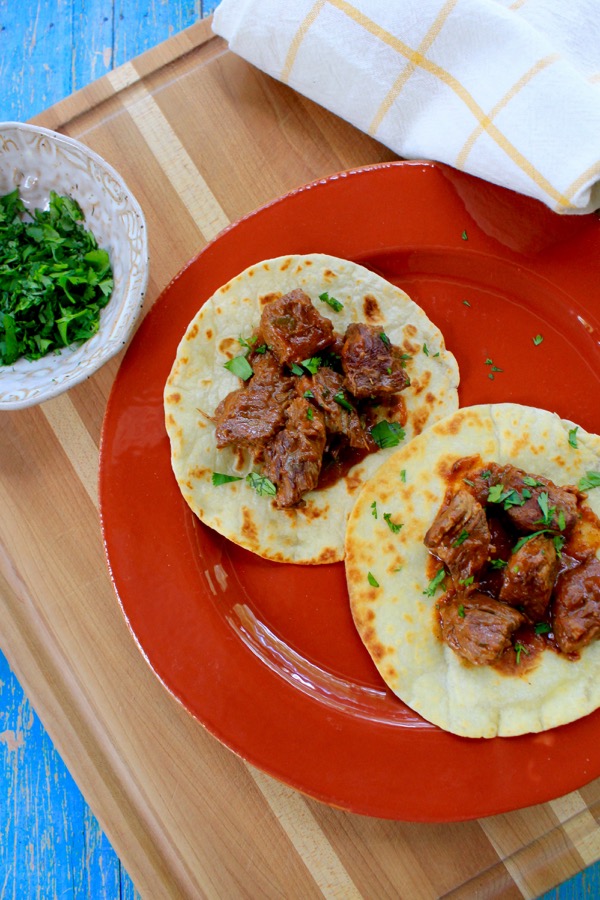 The chef/ author, grew up having these tacos for breakfast. This makes so much sense. Folding soft meat, flavored with Mexican spices into a sturdy flour tortilla works well as breakfast in the back seat of a car on the way to school.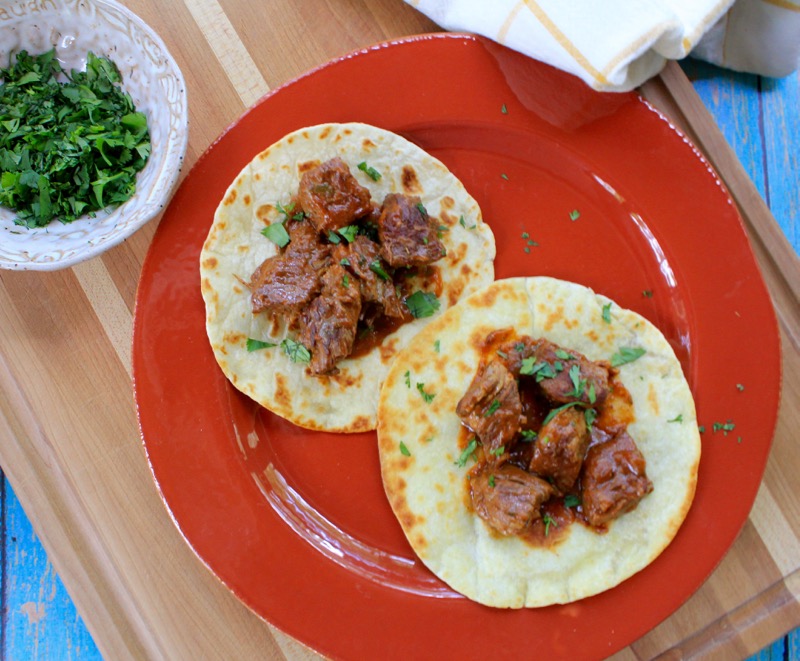 But we enjoyed the Carne Guisada for dinner. I have to admit that I ended up adding some condiments like cheese, onions, peppers and lettuce. They made enough that we can have then again over rice, in a bowl with tortilla chips or over scrambled eggs. I love that we can make many meals from this recipe. By the way, if you don't have the right chilis just use what you have. I used jalepeños and 1 serrano.
CARNE GUISADA
2 Ancho chilis
4 Tbls oil
2 1/2 to 3 lbs boneless short ribs or chunk roast, cubed in 1 1/2 inch pieces
1 large onion, diced
1/2 tsp sea salt
5 garlic cloves
1 Serrano chili, stemmed, seeded and finally chopped
1 Tbls oregano- preferably Mexican oregano
1 1/2 tsp cunim seed
1 tsp chili powder
2 bay leaves
2 Tbls flour
3 cups beef broth
1 cup crushed tomatoes
If using ancho chiles: using tongs, toast over open flames of a gas burner until slightly softened and fragrant, 1 to 2 minutes. Stem and seed the chilis and tear into pieces. If using jalapeños: Stem seed and chop.
Heat 2 Tbls. oil in a Dutch oven over medium high heat. Add beef and brown in batches on all sides. Remove to a plate.
Add remaining 2 Tbls. oil to the pot. When oil is hot, add onions, chilis and salt and cook over medium heat, scraping up brown bits of meat until the onions are soft, about 5 minutes. Add the garlic, oregano, cumin seeds, chili powder, bay leaves and pepper and cook until fragrant, 30 seconds.
Add the flour and stir to incorporate. Add the beef cubes and their juices back to the pan. Stir. Add the beef broth and tomatoes and bring the mixture to a boil.
Transfer the pot to a preheated 300 degree F. oven and cook for about 3 hours.