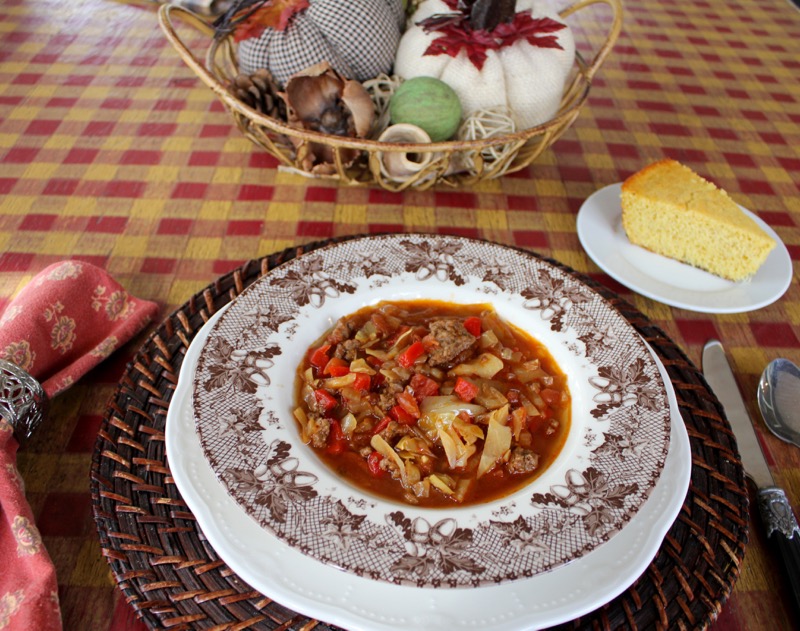 Soup is always on my mind when the cold winds blow.  We are expecting the first below freezing temperatures tonight.  To complicate our lives, our heating system is not working.  We are managing to keep warm with our gas fireplace and may even light a wood fire in out kitchen fireplace.  David is now down in the furnace room with the new parts.  Hopefully we will have heat again soon.  But soup restores all discomfort and warms the soul.  This goulash soup was adapted from Kalyn's Kitchen.  David is still avoiding carbs so this combination of Ground Beef, Cabbage and Roasted Red Peppers fits perfectly into a Keto diet.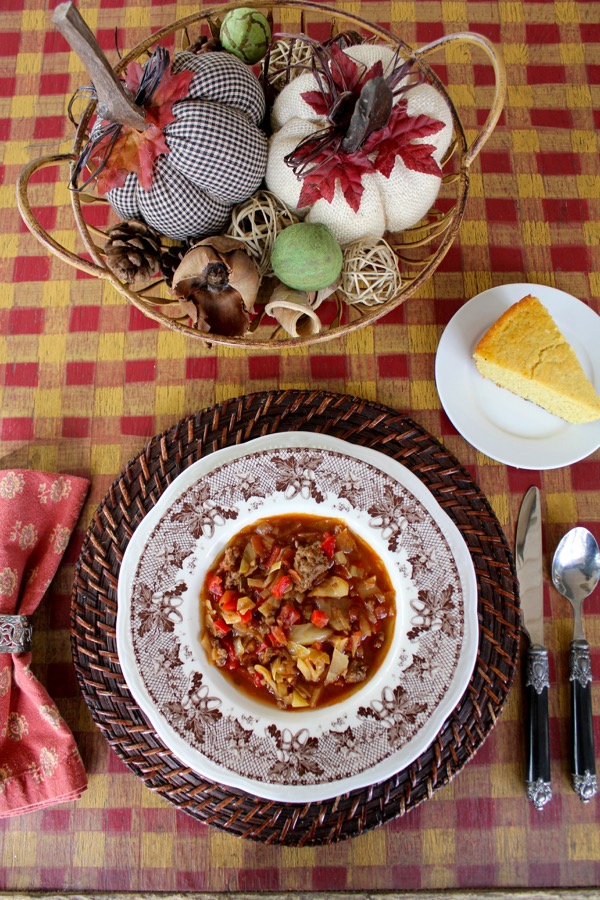 The changes I made to the recipe were to increase the ground beef and cabbage.  I doubled the cabbage from two cups to four cups.  I increased the ground beef from 1 pound to 1 1/2 pounds.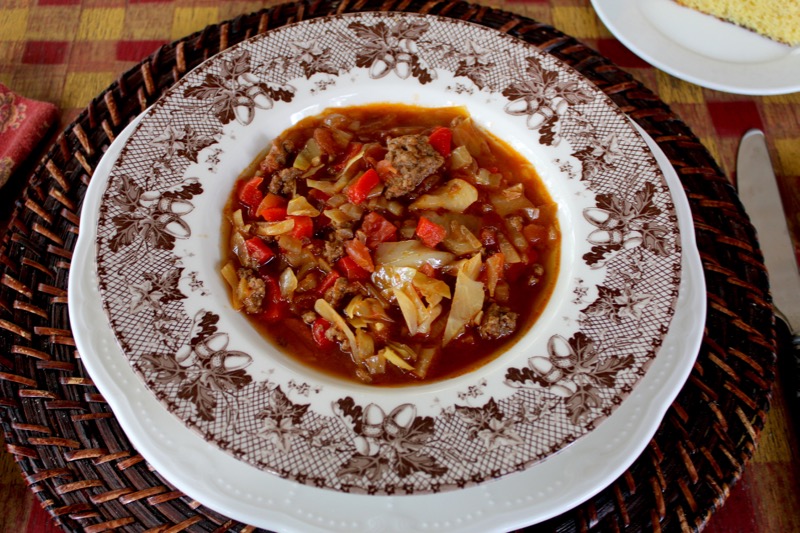 We enjoyed the warming goodness of this soups flavored with paprika, beef stock and tomatoes.  The cornbread is a side dish that I enjoyed alone.  It is Rosa's Cornbread which is very rich and indulged in only in small slices.
GOULASH SOUP WITH RED PEPPERS AND CABBAGE (Adapted from Kalyn's Kitchen)
2 onions, diced
2 tsp. finely minced garlic
1 T olive oil
2 T sweet Hungarian Paprika
1 T hot Hungarian Paprika
1/2 tsp. crushed caraway seed (optional)
4 cups homemade beef stock (or 3 cans, 14 oz. each)
3 cups roasted tomatoes or 2 cans (14.5 oz.) diced tomatoes
4 cups finely diced cabbage
1 1/2 lbs. lean ground beef (ground chuck is best)
1 jar (12 oz.) roasted red peppers, diced into 1 inch pieces
Heat large heavy frying pan, add oil, and saute onions about 5 minutes, until barely starting to color. Add garlic and saute 2 minutes more, then add paprika (and caraway if using) and saute 1 minute more.
Put onion/spice mixture into large soup pot. Deglaze pan with 1 cup of beef stock, then add that and rest of beef stock to soup pot. Add roasted tomatoes or canned tomatoes, cabbage and 2 cups water to soup pot and start to simmer.
Brown ground beef in frying pan until quite brown, breaking into small pieces as it cooks. When browned add to soup pot. Let simmer on very low heat one hour. (Taste for seasoning and add more paprika if desired.
After one hour, add diced red peppers and simmer about one hour more. Serve hot, garnished with sour cream.  This freezes very well.